Ace's 4 Favorite Dog Crate Furniture Items
Make your house dog-proof with one of these 4 dog crate furniture products. 
Discover the dog crate examples we selected and highlighted especially for you. Expensive, affordable, usefull or stylish. See them all below.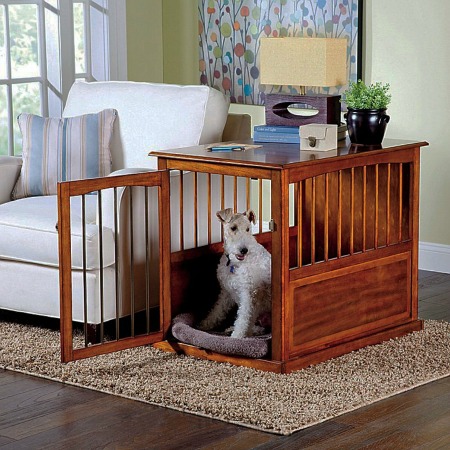 Our Favorite 4 Dog Crate Furniture Products
The Midwest iCrate Double-Door Home Training and Travel Series. It looks very crate-ish. No fun, no thrills, no design anything. It resembles more a mini prison. But we still wanted to highlight it. 
This product was clearly built for a purpose. Not for the looks. It is probably the reason why it is available in many sizes ranging from 22  x 13 x16 inch (length, width and height, respectively) up to 48 x 30 x 33 inch.  If your goal is to have a crate for your dog, this is it.

It has a very good user rating too. Over a 2,400 people have reviewed this dog crate. And with a pricetag of around USD 60 it isn't expensive either.

However the biggest downside, for us, is still its looks. We just wouldn't want to put our dog in a dog crate furniture that resembles a prison like cage. So our tip? Buy it and dress it up to make it look more friendly.
The dog crate with no name. So let's call it the end-of-table pet dog crate. As it is marketed. We found this one on Amazon. It is handmade and costs USD 275. Which is a lot of money. However its looks are worth it. It has a lot less cage-feel to it.  
This one could easily blend in with your own interior decor.

Some of its characteristics: Color is called rubbed walnut finish. Furthermore its side panels are grooved and the metal latch adds to the furniture look and feel. The crate is build of MDF (medium density fiberboard), metal and veneer.

Finally its metal spindles in the door are there to protect against chewing and its plastic bumpers on the bottom help prevent damage of your floor.

This product hasn't had a review as of this writing. So you could be the first. We reckon it's a sensible choice for medium sized dogs.
Is our most striking one. It is called the Dog Gate-n-Crate. Made for small to medium size dogs. We love the name gate-n-crate. It is by far our favorite dog crate furniture. Because it's a smart way to look at dog crates. 
The top is open, which gives it a less prison/locked-up feel. Which is always nice. The sight of a dog inside a closed crate gives us a bit harsh feeling. The unique design makes it possible to function as a 3 sided pet crate against a wall or a corner. Both side panels are able to rotate 360 degrees, which allows for any configuration.

Side panels can also fold into a large center panel, to create a single and solid flat panel. You can extend it from 40 inch to 55.25 inch with one side panel, and then further to 72 inch with the second side panel.

Integrated handles make the Gate-n-Crate easy to handle. 

As of this writing it was on sale for a little under a hundred USD. And it has been reviewed by over 20 buyers. 
The DenHaus ZenHaus Indoor Dog House and End Table. Why this one? Because not only does this product blend in with your house décor it IS your house décor. It is a dog crate and a table! And not a bad looking one either.
It is a dog box that shows that you don't necessarily have to go for the prison-style. The DenHaus ZenHaus describes itself as an individually handcrafted crate and table made of polished fiberglass with an opaque glass top.

However there are some downsides to it.

First. Its price. It will set you back USD 624.25. Yep. It ain't cheap. Second. It's not suitable for dogs the size of a small horse. Meaning max 55 lbs. Lastly (if you value customer ratings) it has only 5 reviews as of this writing. 

So if you're looking for a high user rating product you should look elsewhere.
So there you have it, 4 dog crates worth checking out. For more product recommendations see our cat product or dog product directories.
See our Facebook page for the very latest pet social media. Or hop on to our amazing Pinterest page. And see the beautiful visual world of pets!
Back from Dog Crate Furniture to Dog Products