Discover 4 Stylish Extra Large Dog Beds 
We selected the 4 extra large dog beds we think are a must see. 
You got a BIG dog? Then you'll need to look for extra large dog beds. And you better start looking for one. Because the internet is chock-full of large beds for dogs.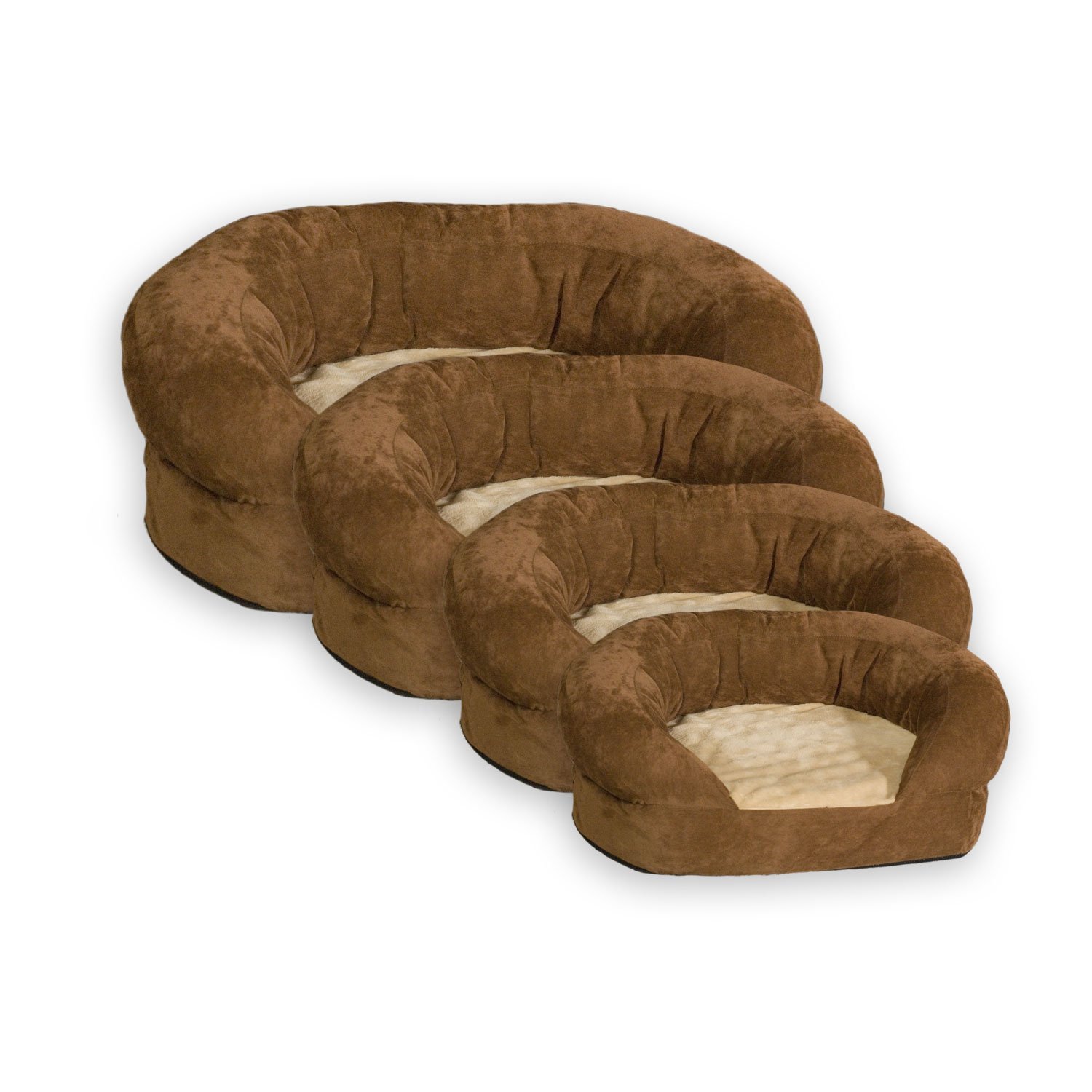 In every color, size and price. From cheap till Ka-ching! expensive.
Designs that make you go meh or WOW! 
But if you're low on time and still would like to have a glimpe of what's out there, follow us. We did the scanning for you.
On this page we'll highlight 4 different large dog beds.
Got you curious? Check them out below!
---
Ace Petnames' Selection of Extra Large Dog Beds: 
The Memory Foam Orthopedic Dog Bed Sofa. It's a 39" x 47" extra large bed with ottoman brown soft faux leather upholstery.  
We love it's simplicity. Yet it's an elegant and classy looking bed. With the dark brown color. Which is very dog befitting. Moreover it is properly big. 
Since this bed is hand made to order it is available in different fabrics and sizes on demand.

The bed is water proof and stain resistant. Which is always a big plus.

Price? Yours for around USD 450.00 (We never said it was cheap). We found this item at Amazon.

If you live outside of the US. Bad luck to you.

It's only available for the US. Click on the picture to see more details.
The Snoozzy Bumper Dog Bed XXL Red. Why this one? Because, compared to other extra large dog beds, it's relatively cheap. Plus it is funky too. 
If you have a large dog you probably already have BIG expenditure on food and other stuff for your dog.

So an affordable, but usefull, dog bed is a good bargain.

This particular bed is available in (in its largest size) 51" by 33".

Which is big enough to make even a small horse comfortable!

Some item specifics. First, the price. It is yours for around USD 66.00.

The beds  is made of acrylic fleece material. 
This will keep your dog warm in the winter and cool in the summer. Furthermore it is machine washable. Which is a big plus.
Its design makes it perfect for travel too. You just have to roll it. The dog bed is available in 5 smaller sizes. Design wise it is available in the colors red spa sprint, green spa sprint and blue spa sprint. It hasn't been reviewed yet (on Amazon). So you could be the first.
Is the rectangular Double Donut Bed in Tranquility Fabric. We found this on Ebay. We loved the floral design of this large dog bed the second we saw it. Want details? Here you go.
The bed is made of high memory polyester fiber cushion and the bolster has foam bottom insert. The cushion is removable and machine washable.

The bed is available in 4 different sizes, The biggest is 48" by 38", while the smallest is 27" by 22".

The price for the largest size is, at the time of writing, USD 279.99. If you happen to live outside of the US, tough luck. It's only availably state side. 
Its full name is the Guy Harvey Chaise Day Bed, Dolce/Billfish. And is an odd choice for us. Because, officially, it's not an extra large dog bed. Yes. You read it right. It's actually an outdoor lounge furniture for us folks. However we choose this one because it could be used as both.
A super awesome outdoor lounge bed that is perfect for dog and dog owner. And we love it! Just look at it. It has a real summer-y feel to it and simply looks stunning. 
As mentioned it is primarily used for the outdoors, but it would also make a cool indoor dog bed.

There aren't many specifics available on Amazon. But we know it has a 64"diameter (which is big enough to hold 2 big dogs) and that it has wheels that make it rotate 360 degrees.

Price? Are you sitting down? It is yours for the small amount of USD 2,607.83. Ka-ching!

Chilling and lounging with your big dog on a couch isn't cheap. 
---
Thank you for your visit. We hope to see you at our Pinterest and Facebook sites too. Join us and stay updated on the latest in pet social media. Bye!
Back from Extra Large Dog Beds to Dog Products
Back to Ace Petnames Home Page