4 Trendy Practical Dog Rain Coat Items 
Walking your dog in the rain can be fun with these 4 funky and practical dog rain coat examples.
Yep. This is our rain coat special! But where oh where do you begin looking for one? 
If you do a simple search on, say, Amazon, you'll get back close to 2,000(!) hits.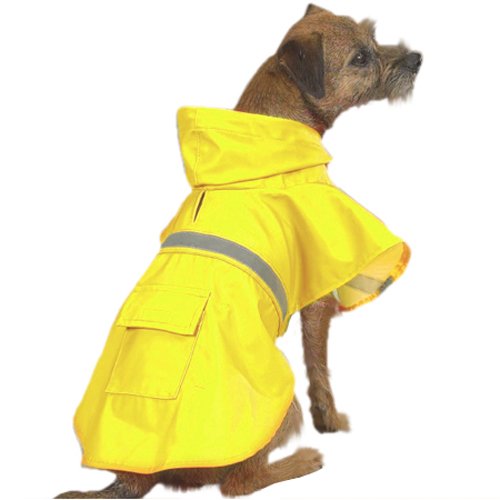 Who's got time (or the patience) to check them out?
But we did! We surfed the world wide web looking for the most remarkable, pet friendly, funny, funky, expensive or cheap dog raincoats. We ended up with a fab 4 selection.
So before deciding on which rain coat to buy for your pooch please check out our selection first!
---
4 Funky Fabulous Dog Rain Coats:
The Medium Dog Rain Jacket by Guardian. Why? Well simple. Check the reviews. See the price. This one looks like a dog raincoat and functions like it. 
Plus it's relatively cheap. At around USD 20 you could have one of the better no-fuss products out there. Specifics? Here ya go.

Product dimensions are 11.5 x 6.5 x 1.5 inches and it weighs about 9.1 ounces.

This item also ships outside of the U.S. This doggy rain jacket is made from waterproof vinyl. It has a drawstring hood, a leash opening and a back pocket with Velcro flap closure.

The elastic leg straps and adjustable belly strap ensure a comfortable and secure fit.

And the reflective strip on the back provides extra visibility in the rain.
So if affordable quality is what you're looking for, this is a no-brainer.
The COACH OP Art Signature "C" Small Dog Rain Coat 60392 Limited Edition in Black/White. Phew. Now that's a mouthful. And yes you read it right.
A genuine rain coat for your mongrel by COACH!

Very classy indeed. A bit pricey-ish too. At USD 188, at the time of writing, this, clearly, isn't meant for everybody's pup. Only high society woof-woof allowed.

This dog raincoat by COACH has an Coach art pattern in black & white and black patent leather trim on the collar.

The inside is made of 100% cotton. Needless to say it's also water and stain resistant.

So if you and your dog would like to take rainy walks in style, this is it.
The Roo Rain Gear Dog Recycled Plastic Bottle Packable Rain Poncho. The reason we picked this one? Because it is one of the very few dog rain jackets that is made from recycled plastic bottles. 
This is your chance of having a fashionable, functional and responsible product for your pooch.

However this dog poncho has a few more plus points.

It is made specifically for dogs on the go. Which makes it easy to put on fast in case it starts pouring.

It is therefore packable into a small attached stuff sack.

It even includes a complete recycled aluminum carabiner. So you can attach your mongrel's new poncho. 

And like most rain coats, this one too is adjustable to ensure a comfortable fit.
This cool and environmentally friendly product is for sale at around USD 35 at Amazon (at the time of writing).
The Chiffon Ribbon Dog Rain Coat in Pink by Ducie Japan design. We saved the best for last. Because this is our number one favorite! 
It looks so cute you almost like to eat it like candy!

Unfortunately there isn't much information available on Amazon, where we found it.

What you need to know is that it's made from a transparent vinyl fabric (100% PVC) and has sealed chiffon ribbons.

This rain jacket is available in sizes small, medium and large.

The medium size one costs around USD 78.

But be sure to check out Amazon for the latest price.

This jacket is so cute you'd almost want it to rain!
Just so you could go outside and show off this adorable and cute dog raincoat.
---
What's next? We recommend you check out our Facebook and Pinterest sites. Or see our navigation for more dog products.
Thank you for visiting Ace Petnames.
Back from Dog Rain Coat to Dog Products
Back to Ace Petnames Home Page