4 Stylish Designer Litter Box Products 
Check out our 4 designer litter box products that will spoil your cat and add style to your house.
This too is another must-own item. And like many other pet products a cat litter box is sold under different names. For example it's also called a sand box, litter pan, litter tray, cat box or sometimes just urine disposal box for cats.
The problem with most litter boxes? It is often not an elegant design. But it can be!
We'll show you litter boxes that'll make yours stand out. We've surfed the internet for hours to select 4 must-see examples.
Scroll down and see for yourself.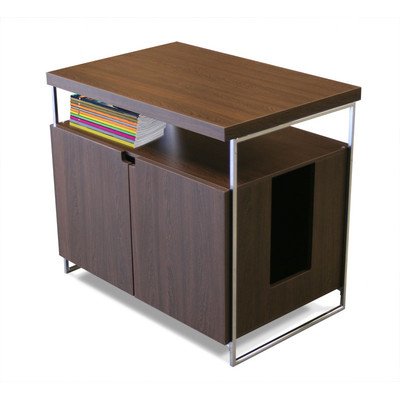 ---
Ace's 4 Designer Litter Box Picks:
The Designer Catbox Litter Box Enclosure in Black. Have your cat do the poo poo or pee pee in style. It is the perfect compromise between the functional and the visual.
This litter box furniture can blend in with almost any interior. It has a concealed entrance, yet still easily accessible for your kitty.

Not only is it stylish it also minimizes odor and prevents litter from getting outside of the box. Which is always a major problem for many cat owners.

This designer litter box is made from quality wood with stained wood-grain finish. It even has room for storing other litter accessories, like the litter scoop and the litter pan.

The catbox can hold a standard to large-sized litter pan up till 18.5" length by 15.25" width and 5.25" height. 
The size of the designer catbox itself is 29.1" length by 20.6" width by 20.8" height. The cat entrance holes are 7.5" wide by 8" high. So big enough for large cats. For more detailed interior possibilities click on one of the product links.
This wonderfull litter box is for sale for USD 119.95 (at the time of writing). And as you can see it has a 3.5 star rating with over 130 reviews.
The Merry Pet Products-Cat Washroom and Night Stand. Another wooden designer litter box. However this one is different then the previous one. 
It is perfect for your bathroom or washroom. Its white finish fits perfect with most bath or washroom interiors. This box has several design elements that make it pleasant to look at.

The classic look makes it perfect to place it anywhere in your house.

Merry Pet Products calls their pet line products "aesthetically pleasing, intelligently functional and competitively priced".

And it shows. This piece of pet furniture is multifunctional. As it can be used as a litter box cover or a coffee table or, as it's also called, a night stand pet house.

But it is most useful for hiding your cat's litter box in your home.

And the added useful shelf spaces are just a good bonus.
Product measures 18.5 x 16.5 x 18.5 inches. Click on the product picture or Amazon logo to find out its price. With 760 reviews and a 4 star rating this is the best rated design litter box out there.
The XL Odor Free Cat Litter Box Cabinet. A rough cut looking cat litter furniture. Its unpolished wood gives a real countryside feel and vibe.
Would blend perfect with either a modern or a classic house interior. It is entirely made in the USA too.

It comes ready assembled. 

This box is 35 x 21 x 24 (width, depth, height, respectively) inches and weighs around 50 pounds. Like the previous models this one too minimizes odors.

Some more item specifics. The cabinet can accommodate a Littermaid and has a low step. Ideal for older cats.

One downside though.
At the time of writing we found this one for arour USD 364.
Yep quality has its price.
The Large Litter Box Hider by Modern Cat Designs. Our top favorite designer cat box. Why? 
Because it looks like an award winning piece of furniture.

Sleek and very modern looking.

This specific model is actually called the TT-MCD-LH04.

The catbox is made from chrome plated frame with high pressure laminate. And the finish is dark mahogany. The overall color is brown.

Its measurements are 28" height, 21" depth and 32"width. And it weighs around 64 pounds.

This ultra stylish cat litter furniture could be yours for USD 314 (at the time of writing). So this one too, like our third pick, is not cheap.
---
That's it! You just saw our top 4 favorite designer catboxes. If you want more litter trays check out our other special on automatic litter boxes.
Or see our cat product and dog product directories for more Ace Recommends.
Thanks for visiting and bye!
Back from Designer Litter Box to Cat Products